OS 240A (8 feet) Advanced Inflatable Tender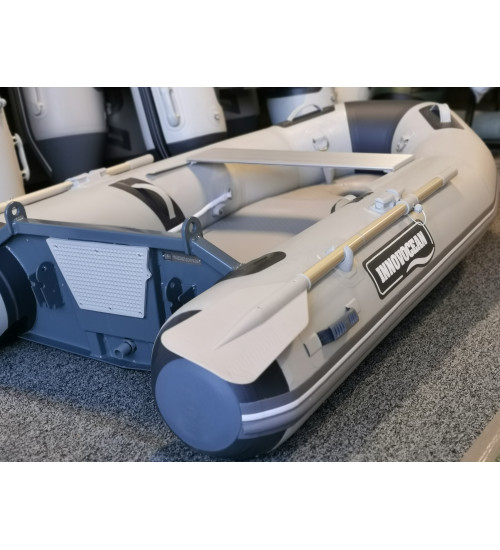 INNOVOCEAN Advanced Osprey Series Inflatable Tenders
The best value of Inflatable Tenders 2021


UNIQUE FEATURES
Innovative Aluminum Transom
Extra strong large lifting points for davits
Wheel Brackets is ready
The traditional inflatable boat transom consists of three pieces of plastic and wood and covered with PVC or fiberglass that will fail by rot and warp. Our unique designed aluminum transom is doubling strong and more durable than other inflatable boats.
With wheels you can launch your inflatable boat with motor easily. The wheels are optional and brackets are ready.
The Osprey advanced tenders are compact and easy to stow in a locker or the back of a car. Its improved buoyancy tubes increased the boat stability and make it safer. We use best materials and parts and we build the boat with more reinforcement.
Aluminum Floor is already included and Drop Stitch Air Deck Floor is optional
BEST Material
• Heavy-duty German HEYtex Fabric PVC
• Marine Grade 5052 Aluminum Alloy Transom with Colored AkzoNobel Marine Coating
• Italian Bravo parts and accessories
Strongest Construction
• Thermal bonding seams (completely weld the seams and the seam tapes together)
• Extra Reinforced Aluminum Transom
• Reinforced Heavy Duty Aluminum Flooring System
• Reinforced One Piece Aluminum Beach Seats
• Reinforced all the Parts and connections
• Extra Large Side Rubbing Strake
DIMENSIONS & WEIGHT
Overall length
240 cm /7'10"
Inside length
170 cm /5'7"
Overall width
132 cm /4'4"
Inside width
61 cm /2'
Buoyancy tube diameter
35 cm /1'2"
Weight
39 kg /86 lb
CAPACITY
Passengers
2
Maximum Gross Load
260 kg /573 lb
Maximum Power
6 HP /4.47 KW
Maximum engine weight
52.3 kg /115 lb
STRUCTURE
Air Chambers
3 + 1 Keel
Transom Materials
Aluminum
Engine Shaft (Transom Height)
Short 15"
Floor Material
Aluminum / Air Deck
1.
MAC Smart Electric Boat Package
We design and develop electric boat package for entertainment market and client required applications base on MAC Smart Electric Boats and related control systems.
2.
Mac Smart Lithium Battery Bank
Designed and developed by a Canadian team of engineers
1). Using A+ quality LiFePo4 battery cells
2). IP65 waterproof packaging, marine grade sealing process
3). Reinforce all components and connections to reduce failures in huge wave environments
4). Smart EMS Bios specially designed by our own team to ensure more protection and more accurate battery remaining capacity measurement
Designed a joystick that can be operated with one hand to drive the two brushless motors of the electric boat, and change the direction through the difference in the driving force of the two brushless motors. In this way, it can be operated both on board and on shore, greatly facilitating boating operations.
It changes the driving experience of traditional steering wheel control boats, which can be used in boats for fishing and cruising. It also can be used in rescue and some other industry applications.
4.
MAC Autonomy Boat System
We offer customized application development for remote control and autonomy navigation according to your requirements.